Sudam Sand Art Museum, Puri- History, Architecture, Entry Timings/ Ticket Price, and Much More!
Whether you are an art enthusiast, a curious traveler, or simply seeking inspiration, Sudam Sand Art Museum is a must-visit place. It offers a unique opportunity to witness the extraordinary talents of the creator of the museum and appreciate the beauty and intricate detailings of sand art. Prepare to get captivated by the artistry, craftsmanship, and sheer brilliance that awaits you at Sudam Sand Art Museum in Puri.
For lovers of art, especially sand art, the Sudam Sand Art Museum on the Puri-Konark Marine Drive is a must-see destination. This unique sand art museum, founded by the well-known international sand artist Sudam Pradhan, houses 3D sand art models in a range of subjects and designs. Visitors can view impressive sand sculptures at the museum depicting historical individuals, monuments, Hindu gods, and even well-known animated characters.
The multicolored sand sculpture of Lord Jagannath at the museum's entrance, the Konark Sun Temple, the Taj Mahal, Lord Buddha, Mahatma Gandhi, Captain America, Spider-Man, Hulk, dolphin, and forest beauty on the elephant are just a few of the renowned sculptures on a show that are popular with visitors. Some of these sculptures are between 15 and 20 feet tall and are standing without any kind of support system.
There is no waste at this environmentally friendly museum, and the sand is recycled to replace the sculptures periodically while keeping up with the most recent trends.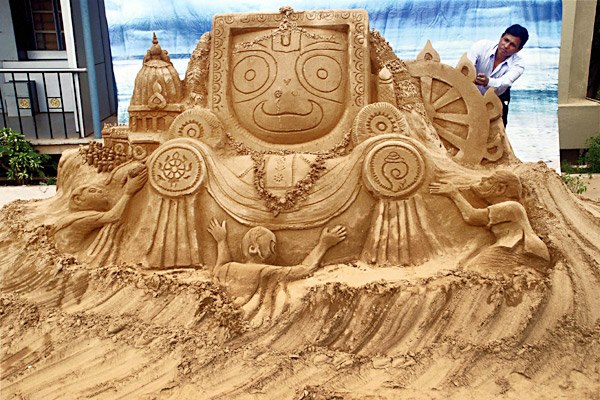 History Of Sudam Sand Art Museum, Puri
On February 4, 2018, Maheswar Mohanty, the then-Minister of Revenue and Disaster Management, Odisha together with other significant office holders, officially opened the museum.
Architecture Of Sudam Sand Art Museum
The museum has a temporary structure and covers a space of 5000 square feet. The fact that some plants have been retained inside the museum to generate a sense of greenery is significant. Sand, water, and a little bit of adhesive are used to create each of the sculptures, which are changed frequently. These are effectively shielded by the right shades.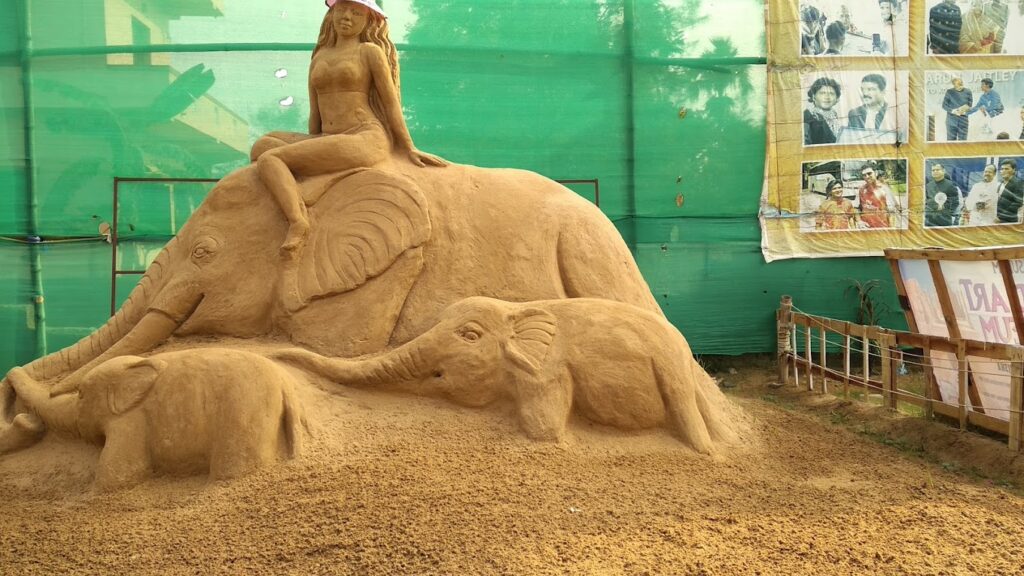 Things To Explore in Sudam Sand Art Museum
The museum's sand sculptures are quite dazzling in style and a good example of the medium. Visitors to this location will undoubtedly have a good time. They can get the opportunity to see the idols being sculpted while they are visiting the museum. Children who are interested in studying art can sign up for their training sessions and possibly have the chance to meet Sudam Pradhan.
In addition to spending time at the lovely Sudam Sand Art Museum, travelers can visit other significant locations in Puri, the most well-known of which is the Jagannath Temple, which draws a large number of pilgrims each day. Narendra Pokhari, Mahatma Gandhi Park, Blue Flag Beach, Golden Beach, Loknath Temple, Swargadwar Beach, Vimala Temple, Govardhan Matha, and Sudarshan Crafts Museum are a few additional must-see sites.
Entry Timing and Ticket Price to Sudam Art Museum
The Sudam Sand Art Museum charges Rs 30 for admission per person. Every day of the week from 7 am to 8:30 pm this place is open for visitors.
How to Travel to Sudam Art Museum, Puri
Sudam Sand Art Museum, Puri Address– Baliguali Road, Puri-Konark Marine Dr, Puri, Odisha, 752001, India
The Sudam Sand Art Museum is just 4.9 kilometers away from the Puri Railway Station. The Puri Bus Stand, on the other side, is around 5 miles away. From the bus stop and railway station, it is simple to get private taxis, auto rickshaws, and battery-powered rickshaws to the museum in a short amount of time.
Travelers who want to fly to Puri can reserve their tickets for the Biju Patnaik International Airport in Bhubaneswar. Puri is about 60 kilometers from the airport. You can hire a private cab from Bhubaneswar to get you here from the airport. As an alternative, travelers can travel to Puri by any train from the Bhubaneswar Railway Station or by bus from the bus stop nearby the railway station.
Things To Remember While Visiting Sudam Sand Art Museum
Take care not to leave any trash on the museum grounds.

It is permitted to take photos inside the museum.

The sand sculptures should be handled with care.
The Sudam Sand Art Museum offers visitors a chance to experience art's ability to express ideas and evoke emotions in addition to being a visual treat. It is a location where art and activism come together, making an effect on visitors and inspiring awe and admiration for the artistic medium. You will be taken into a world of wonder and imagination as you visit the museum. The sculptures capture moments that have been preserved in time and evoke a wide range of emotions. In addition to being physically appealing, Sudam Pradhan's sand sculpture conveys strong themes that support social awareness, cultural preservation, and environmental conservation. A genuine jewel in Puri's artistic community, the Sudam Sand Art Museum offers a singular and immersive experience that honors the elegance and transforming potential of sand art.