Satkosia Tiger Reserve- History, Things to Do, Entry Timings, Location, and Much More!
In this 50th year of Project Tiger,  the whole Tiger community is rejoicing with the ultimate news of an increased population standing at 3,167 from 2967, an increase of 200. The Tiger Population carries out the project in India, in 2023. Those fierce eyes and sharp jaws are not going to stay for a longer epoch.
The Satkosia Tiger Reserve is located in the center of Odisha and is divided between Nayagarh, Cuttack, Angul, and Boudh. The Satkosia Gorge Sanctuary and Baisipalli Sanctuary are two adjacent sanctuaries that make up this tiger reserve. The region was designated as a wildlife sanctuary in 1976 and is now maintained by the Forest and Environment Department of the Government of Odisha.
The word "Satkosia" comes from the Greek words "Sat" (seven) and "Kos" (two miles), which may refer to the 14-mile-long River Mahanadi canyon that cuts through this area of biodiversity. The Eastern Ghats and the Deccan Peninsula, two bio-geographic zones of India, also meet near Satkosia, adding to the country's extensive biodiversity.
The Satkosia Tiger Reserve is home to a variety of plants and animals as well as entrancing natural beauty that attracts visitors from all over the world. Visitors to this tiger reserve can stay in the nature camps and take advantage of the tranquillity this area has to offer in addition to the chance to see wild creatures in their natural habitat.
History of Satkosia Tiger Reserve
Hilly terrain with steep to moderate slopes and narrow gorges characterises the Satkosia Tiger Reserve, which was designated as a tiger reserve in 2001. The terrain's average elevation ranges from 37 m to 932 m, with Katrang having the lowest and Sunakhania having the highest points.
Sal trees from low-lying tropical and damp peninsular forests, as well as old teak plantations, make up its flora. The tiger reserve contains more than 98 shrubs, 126 trees, 561 climbers, and 125 herb species.
The diverse animal population in the reserve includes tigers, sloth bears, sambar deer, spotted deer, elephants, leopards, giant squirrels, porcupines, barking deer, and chowsingha. The Satkosia Gorge is the native habitat of two threatened reptile species, the freshwater crocodile and the gharial. It is home to roughly 183 different fish species, 161 different bird species, and more than 38 different animal species.
Crocodile breeding has started in this area thanks to the technical assistance provided by the FAO and UNDP to the Forest Department of the Government of Odisha. The Gharial Research and Conservation Unit (GRACU) was established here a year later, in March 1975. Crocodile breeding, conservation, rehabilitation, and release into their native habitat are all actions carried out by GRACU. The group has done outstanding work to protect crocodiles in the nation.
Satkosia Gorge Sanctuary- The Satkosia Gorge Sanctuary covers an area of 795 sq km and is home to gharials, mugger crocodiles, and uncommon fresh turtles including Trionyx and Chitra indica. At this sanctuary, the Mahanadi River forms a gorge that is 14 miles long as it cuts across the Eastern Ghats. As a result, it is referred to as Satkosia in the local tongue.
The Satkosia Gorge Sanctuary is close to the Baisipalli Sanctuary, which was established as a sanctuary in 1981. This sanctuary, which spans roughly 168 km in the region, takes its name from the 22 towns that are located inside. Along with reptile species like the King cobra and python, its steep landscape, which is dominated by Sal woods, is home to elephants, leopards, tigers, and chowsinghas.
The Eastern Ghat subdivision, the Eastern Plateau province, and the Deccan Peninsula Biogeographic Zone all include the Baisipalli Sanctuary. A Deer Park at Kuanria is located on the edge of the sanctuary and offers visitors educational and recreational opportunities.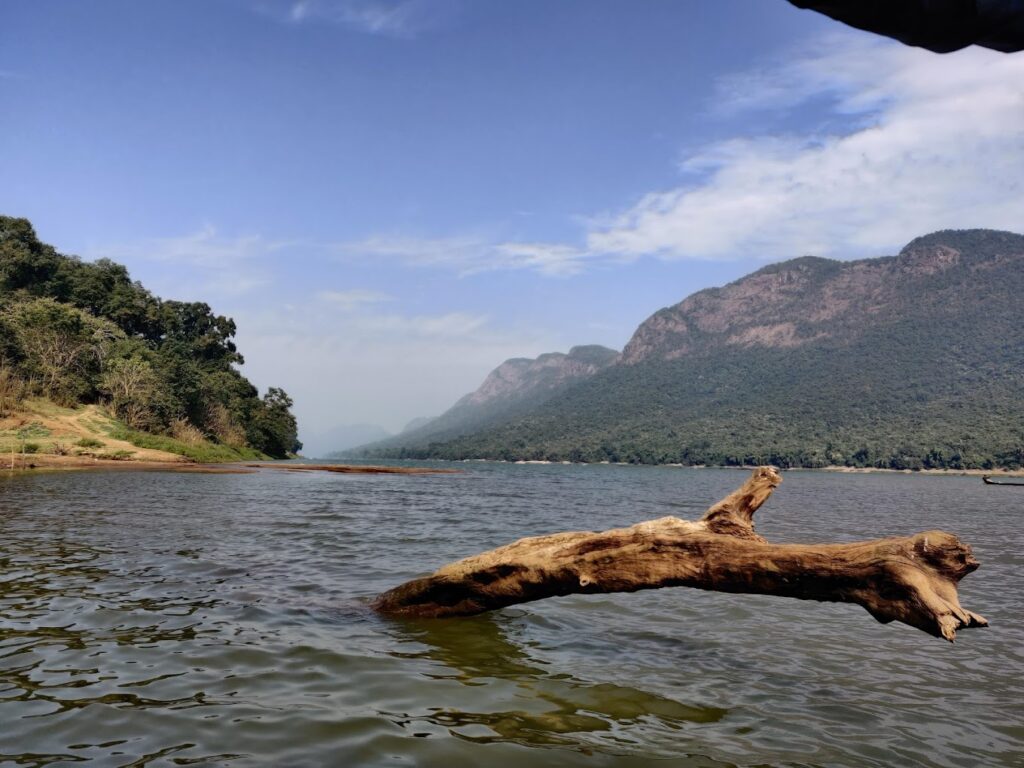 Things to do in Satkosia Tiger Reserve
The Satkosia Tiger Reserve has several sites to explore, and these regions have been split into the northern side and the southern side. Tikarpada, Purunakote, and Chhotkei are tourist destinations in the northern part of the region.
The regions to explore on the southern side are Badamul, Kuanria, and Sapapathar. Some of these locations include camping areas and lodging options, although permission is needed in advance to remain there. These are primarily paid-for amenities as well. Overnight stays in these camps can be very fulfilling. For those who enjoy the outdoors and wildlife, this might be the most exhilarating experience ever.
Northern Side
Tikarpada: Visitors can take in the reserve's natural scenery in Tikarpada. At this location, the Mahanadi River is a breathtaking sight. In some river areas, boating is permitted with the proper authorization. A boat trip across the expansive gorge with tall mountains on either side seems straight out of an action film. It's common to see crocodiles lazing on the river's sand banks.
This location has a Nature Interpretation Center where visitors can spend time learning about the reserve's stunning natural surroundings. In addition, guests can visit the GRACU to learn more about the Gharial crocodiles that dwell in this preserve. Exploring the environment and viewing birds on a natural trail at Tikarpada can be a lot of fun. Visitors must get in touch with the Satkosia Wildlife Division's Divisional Forest Officer (DFO) to do this.
A fantastic overnight camping experience is provided by the nature camp at Tikarpada. Along with cooking and security procedures, each camp has double-bedded tents with running water and toilets.
Purunakote: It is a camp where tourists can see sambars, huge squirrels, herds of chital, and native hill mynas. This camp is run by an eco-tourism organization and provides amenities including campfires, nature hikes, and boating in locations where it is legal along the Mahanadi River. There are thatched-roof tents and cottages available at the Purunakote camp.
Chhotkei: Eight kilometers away from Purunakote is Chhotkei, a wilderness camp run by an ecotourism group. Here, one can take in picturesque views of Satkosia's surroundings. From the camp, elephant herds can be seen. Bird watching, trekking, and boating along the Mahanadi River are some of the activities that can be indulged in at Chhotkei. Some of the activities available at Chhotkei include bird watching, hiking, and boating along the Mahanadi River.
Southern Side
Badamul: The tranquil natural beauty of the Badamul region is well-known. Its appeal is further enhanced by the vistas of the Mahanadi River's azure waters. The experience of boating in the river is one that should not be missed while visiting Badamul. At this location, it's possible to see wild animals like sambars, gaurs, hill mynas, and enormous squirrels.
Kuanria: Kuanria is a small village on the fringes of the Satkosia Tiger Reserve. It is roughly 40 kilometers from Chhamundia via the Baisipalli and Satkosia Gorge Sanctuary, and 50 km from Nayagarh via the National Highway heading towards Bolangir.
At Kuanria, there is a deer park and an Interpretation Center that may be visited. The Kuanria Dam, which serves as a year-round haven for water birds, is located next to the Forest Rest House. The Baisipalli Sanctuary is easily accessible from Kuanria, and spending time there in the midst of untamed nature may be a lot of fun for guests of the Satkosia Tiger Reserve.
A Forest Rest House with two suites is present at the spot. To stay at this rest home, you must first receive permission from the DFO's Mahanadi Wildlife Division. At this site, there is no food service.
The vast black granite rock bed is known as Sapapathar is situated in the middle of the Baisipalli Sanctuary's remoteness. Through a nature rail, visitors can access this area of the sanctuary and take in the views of the unspoiled woodlands along the way. However, people must exercise caution because wild animals including wild boars, elephants, jungle birds, leopards, etc. have been seen in this region
Chhamundia: Chhamundia has a Forest Rest House with two apartments. The Mahanadi Wildlife Division of the DFO is in charge of it. To stay at the forest house, visitors to the reserve must obtain prior approval from the DFO. There is no catering service offered at the rest house.
Entry Timing and Ticket Price In Satkosia Tiger Reserve
| | |
| --- | --- |
| Person/Day | Ticket Price |
| Indian Citizen | 20 |
| A group of 20 or more @ per person (Indian nationals) | 10 |
| Foreign Nationals | 1000 |
| A group of 10 or more @ per person ( foreign nationals) | 200 |
| Students | 20 |
| A group of 10 or more @ per student | 10 |
| Conducting Research (Indian Nationals) | 30 |
| Conducting Research ( Foreign Nationals) | 450 |
| Childre below 3 years | Free |
| Physical Handicapped | Free |
| Jeep/ Car/ LMV per day | Rs 5 per vehicle per day |
| HMV/ 2 Wheelers | Not allowed |
The Satkosia Tiger Reserve is open from 6 am to 6 pm daily.
Visitors to the Satkosia Tiger Reserve must also pay the following costs in addition to the entrance fee:
Trekking/Nature Trail– For Indian citizens, it costs Rs. 20 per person per day; for foreigners, it costs Rs. 100 per person per day.
Amateur camera- Rs. 100 per camera for the first 3 days, then Rs. 40 thereafter for foreign nationals; Rs. 20 per camera for the first 3 days, then Rs.
Professional Camera- For Indian citizens, Rs. 50 per camera per day, and for foreigners, Rs. 400 per camera per day
For Indian citizens, an amateur video camera smaller than 35 mm costs Rs. 200 per day; for foreigners, an amateur video camera costs Rs. 1000 per day.
Video Camera (Professional)– For Indian citizens, it costs Rs. 1000 per camera per day, and for foreigners, it costs Rs. 10,000 per camera per day.
Documents Required For Entry Permit into Satkosia
To enter the Satkosia Tiger Reserve, all visitors must first get authorization. By paying the necessary costs, these permits can be purchased at tourist information centers.
Photo ID card/ PAN Card

Or, a Driving License

Passport for foreign national
Entry Permits are issued in
Pampasar

Chhamundia

Kusanga
How to Travel to Satkosia Tiger Reserve
Address: Badmula, Nayagarh, Bhubaneswar, Odisha, 752084, India
Approximate 162 kilometers separate the city of Bhubaneswar from the Satkosia Tiger Reserve. A more convenient and comfortable option is to reserve a private taxi in Bhubaneswar, which will take you to the reserve in about 3 hours.
Air, rail, and road are accessible from the majority of the cities to Bhubaneswar. The Biju Patnaik International Airport is the destination for travelers arriving by air, while Bhubaneswar Railway Station is the destination for those arriving by train. The Baramunda Bus Stand is the city's interstate bus terminal, where buses from neighboring states frequently travel.
Things to Remember While Visiting Satkosia Tiger Reserve
Before entering the tiger reserve, visitors must sign an undertaking promising to follow all applicable laws and regulations. Strict penalties will be applied if these rules and regulations are broken.

Only the gates at Pampasar, Kusanga, and Chhamundia permit the entry of tourist vehicles.

At all entry and exit gates, forest personnel may examine vehicles or guests and their possessions.

Any vehicle discovered breaking the established rules and regulations a second time will no longer be permitted to enter the reserve.

By 5:00 pm, all visitors must leave the Tikarpada area.

By 6:00 p.m. on the same day, all visitors to the reserve who are there for the day must leave the property.

To remain inside the reserve at the campgrounds at Tikarpada, Chhotkei, Purunakote, and Tarava, guests must have a verified reservation.

The reserve is only accessible by a certain number of cars each day at Pampasar (24), Chhamundia (10), and Kusanga (6).

Subject to a confirmed reservation being requested from the Divisional Forest Officer Mahanadi Wildlife Division, Nayagarh, visitors may be permitted to stay at Kuanria and Chhamundia.
Wildlife enthusiasts and admirers of nature can both find refuge in Satkosia Tiger Reserve. The reserve provides a distinctive and all-encompassing experience in the midst of nature with its diversified ecosystem, beautiful vistas, and a great variety of flora and wildlife. Exploring the reserve is made more alluring and thrilling by the presence of the majestic Royal Bengal Tigers. Visitors can participate in activities like birding, nature walks, and animal safaris to see the beauty and richness of the area up close. In addition to being an essential home for endangered species, Satkosia Tiger Reserve also plays a significant role in conservation and promoting awareness of the value of protecting our natural heritage. The reserve is a must-visit location for people looking for an unforgettable and rewarding experience in the middle of nature because of its visual beauty, serenity, and wealth of species.