Sapua Dam- Entry Fees, Timing, Picnic Spot, Distance, and Things To Do
This Sapua Dam is surrounded by lush vegetation and is a great picnic location. It used to be a prohibited region, but now travelers flock to this area to camp, go sightseeing, and have picnics. Additionally, the Saal forest surrounds it, which unquestionably improves the view of the area around this dam. People travel here from all around the state to see the fleeting view.
The dam has a length of 590 meters, a height of 44.8 meters, and a water storage volume of 1,130 million cubic meters. The adjacent areas' 12,000 hectares of land are irrigated by the dam's irrigation system. During the rainy season, it also protects the neighboring surrounding areas from flooding. The dam's hydroelectric power station can produce 2.5 MW of electricity.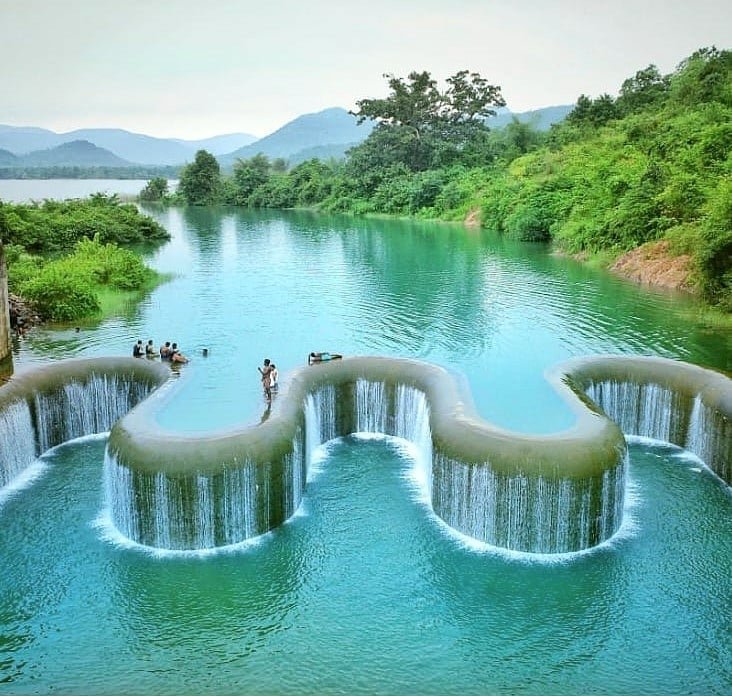 The dam was constructed by the Department of Water Resources of Odisha as part of a medium irrigation project under the Mahanadi basin. More farmers are receiving assistance from the program to cultivate 855 hectares in Kharif. It holds the Mahanadi's flowing water for subsequent use.
Major Distances To Sapua Dam
Sapua Dam is currently a popular tourist site in Odisha. This concrete barrage's architectural framework is framed in the shape of a snake. Because of this, the word Sapua means "snake" in Latin.
How to Reach Sapua Dam, Bhubaneswar
By Road: If you're using a bus or a car, follow National Highway-55 to get to Dhenkanal. From there, turn left onto the road that leads to Hindol Block, and take a local auto to get to the dam.
By Air: Biju Patnaik International Airport, Bhubaneswar, is the closest airport, from where you can hire a car or take a bus to Hindol, where you can then take local transportation to reach Sapua Dam. 

By Train: Dhenkanal Railway Station is the closest railway station, and you can use private transportation to get to Sapua Dam from there.
Things to Explore in Sapua Dam, Bhubaneswar
The dam and reservoir offer a picturesque view of the surrounding landscape. You can see the water and greenery around it.

Boating facility to enjoy on the reservoir.

You will be able to do fishing with a proper license and permission.

The area around the dam is great for picnics and recreational activities like parks and playgrounds etc.
Best Time to Visit Sapua Dam
The best time to visit Sapua Dam would be during winter or pre-monsoon months when the weather is pleasant and the water level is low.
With an S-shaped feature that resembles a snake. This dam offers a scenic perspective for photography as well as a tranquil environment to spend time with your loved ones. Near Sapua Dam, there is something for everyone, including breathtaking waterfalls, clear lakes, and historic temples and castles.