Museum Of Tribal Arts & Artifacts- Ticket Price, Timings, Location, and Photos
The best tribal museum in India, the Museum of Tribal Arts and Artifacts, is located in Bhubaneswar and opened its doors in 1953. With the current name "Odisha State Tribal Museum," it has over 60 tribes from the state of Odisha that have their lives and cultures attractively shown in the museum. Its main responsibility as a repository of anthropological knowledge is to disseminate knowledge about the variety of these tribe communities' cultural, social, and religious characteristics.
If you want to enjoy the aesthetics, History, Arts, and Crafts and adore every bit and piece of the amusements that are in the world, then you must visit the museum, and what's best than the Museum of tribal arts and Artifacts? Swim inside the best of the things provided by the highly self-independent and the crusaders of the ancient knowledge to the modern world, The Tribals. A trip to the museum involves learning and appreciating the lively traditions and practices of the indigenous communities, not just exploring the museum's physical artifacts.
This location, popularly known as the "Museum of Man," is regularly maintained by the Scheduled Castes & Scheduled Tribes Research and Training Institute (SCSTRTI), a division of the Government of Odisha. The museum routinely hosts a number of workshops, training sessions, and seminars for the development of these communities and the preservation of their original culture.
Various artifacts from the tribal societies, including jewelry, costumes, weaponry, musical instruments, household items, agricultural tools, and handicrafts, are on show at the museum. Additionally, it contains exact reconstructions of native homes, providing a rich window into the history and growth of these tribe communities. The museum complex includes five main galleries with a total of 2,247 artifacts on display, an outdoor exhibition area with replicas of tribal huts and shrines, a herbal garden, a special gallery for particularly vulnerable tribal groups (PVTG), a tribal food court, a library, and a gift shop.
This is one of the well-known sights in Bhubaneswar that travelers should not miss out on since it provides a glimpse into the way of life and culture of the tribal people who formerly lived and still do in the most rural parts of the state of Odisha.
History Of The Museum Of Tribal Arts & Artifacts In Bhubaneswar
The museum, which opened its doors in 1953, had modest beginnings; all of the gathered objects were initially displayed in a single hall. The SCSTRTI built five tribal huts on their property in 1986 and put on display the artifacts gathered up to that point inside of them. The current structure was opened on the SCSTRTI campus in March 2001. Today, the museum is a crucial component of the institute and displays the cultural fusion of the Odia tribes.
The museum officials host two fairs and a dance festival in the campus throughout various months of the year as part of their effort to grow these communities.
National Tribal Crafts Mela

– This national fair is organized in association with a number of organizations that support tribal artists from all across the nation in showcasing and selling their products to consumers directly. The fair, which takes place in the third week of November, gives these craftspeople a chance to network with one another and learn about contemporary consumer expectations.

Adivasi Mela

– The diverse tribal communities of Odisha come together for this state-level fair, which takes place in the months of January and February, to exhibit their fine arts and crafts, regional cuisine, agricultural products, and colorful music and dance.

National Tribal Dance Festival

– Dance groups from all around the state and the nation come together for this national festival to commemorate tribal culture via dance and song. The ST & SC Development Department, Government of Odisha, IGRMS, Bhopal, Madhya Pradesh, and

Ministry of Tribal Affairs,

Government of India, New Delhi collaborated to organize this event.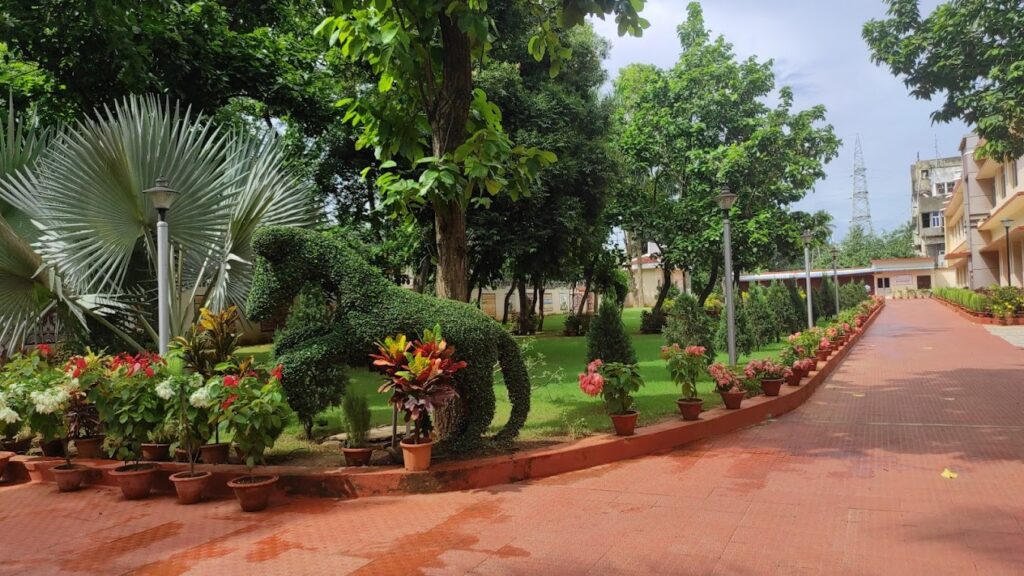 Architectural Wonders Inside Museum Of Tribal Arts and Artifacts
Each of the museum's indoor and outdoor galleries and areas is very valuable, presenting both artifacts and knowledge about the lifestyles of the tribal people of Odisha that have been well investigated and documented.
Gallery 1– Personal Adornment– The traditional clothing and jewelry of the tribal people, which include finely created necklaces, earrings, bangles, hairpins, and waistbands, are showcased in this gallery.
Gallery 2– Personal belongings, Arts, Crafts & Textiles– The exhibits in this gallery showcase the expert workmanship of the tribes and include handcrafted smoking pipes, combs, and purses in addition to paintings, rice and bamboo crafts, and other objects like paintings. Additionally, handwoven textiles from groups including the Dharua, Munda, Bonda, Kandha, and Santal are included.
Gallery 3– Weapons, Fishing, and Hunting Tools– Tribal weaponry, such as knives, spears, bows, arrows, axes, swords, and guns, are on show in this gallery. Additionally, it displays fishing nets, snares, catapults, traps, and other hunting and fishing equipment. While some of these instruments are used for hunting and forest clearing, the majority are employed for self-defense.
Gallery 4– Agricultural Equipment and Household Objects– In this collection, there are rudimentary household items and instruments used for farming. Among the farm tools on the show are plows, digging sticks, pestles, winnows, levelers, and straw collectors. Knives, cooking utensils, carrying poles, slings, cowbells, and other tools for extracting oil, twisting rope, and finding shelter from the weather are among the domestic goods on display in the gallery. Several dishes and containers fashioned with dried gourd are on display.
Gallery 5– Dance & Musical Instruments and Dhokra Figurines–  This gallery, which features a variety of musical and dancing instruments, serves as a visual representation of how essential music and dance are to the people who live in tribal communities. This section features dancing attire for celebratory events, as well as huge drums, percussion and string instruments, friction blocks, Jews harps, and shakers. Drums, tambourines, trumpets made of brass and horn, cymbals, and clappers are a few of the other musical instruments on display.
This section contains a fantastic assortment of Dhokra figurines. These figures, which include animals, insects, birds, and humans, were created using an ancient wax casting technique for aesthetic and religious uses.
Gallery 6– Courtyard– Every tribe has its own Gods and Goddesses, and worshipping them and paying respect to the ghosts of one's ancestors are deeply ingrained in each tribe's culture. By erecting 14 tribal shrines in the courtyard, this part of their lives has been beautifully replicated in the museum.
Gallery 7– Special PVTG– The 13 Particularly Vulnerable Tribal Groups of Odisha, including the Lodha, Dongria Kandha, Chutkia Bhunjia, Bonda, Juang, Mankirdia, Saora, Didayi, Kutia Kandha, Paudi Bhuinya, Lanjia Saora, and Hill Kharia, have their own particular gallery at the museum. Through interactive kiosks and dioramas, visitors are given a glimpse into the daily lives and cultural practices of these communities.
Gallery 8- Tribal Huts– The museum's recreations of native huts are breathtaking. These huts are constructed in a conventional manner, with distinct spaces set aside for sleeping, living, cooking, and eating, as well as a separate pigsty and cow shed. Inside these huts are a variety of domestic goods as well as farming and hunting equipment. The tribes of Gond, Gadaba, Santal, Chutkia Bhunjia, Juang, Kandha, and Saora all have seven of these homes.
Gallery 9– Herbal Garden– To highlight the state's biodiversity, the campus also contains a herbal garden with more than 300 medicinal species. The garden helps to teach tourists about native knowledge and environmentally beneficial agricultural and medicinal practices used by tribal populations.
Gallery 10– Souvenir Shop– A variety of tribal textiles, handicrafts, and organic foods are available for purchase in the souvenir shop. It is also possible to purchase the artwork produced during the live demonstration programs, which are held twice a month in the museum to promote the art forms of the tribal people of Odisha.
Things To Explore in the Museum of Tribal Arts & Artifacts, Bhubaneswar
Visitors will find that visiting the Museum of Tribal Arts and Artifacts is a great choice because there is so much to discover and understand about the tribal people of Odisha. It will be a lovely experience to stroll around the galleries and the outdoor display spaces, notably the huts, and to sample the local cuisine at the on-site food court as well as to take a stroll through the herbal garden.
Tourists can also visit some of the city's other well-known attractions, such as historic monuments, amusement parks, and other intriguing museums in addition to this one-of-a-kind museum. The top things to do in Bhubaneswar should also include sampling regional cuisine at well-known eateries and shopping areas.
Ticket Price and Entry Timing Inside Museum Of Tribal Arts & Artifacts
Visits to the Museum of Tribal Arts and Artifacts are free. Every day of the week from 10 to 5 pm the museum is open. Only on State Government holidays does it remain closed.
How To Travel To Museum Of Tribal Arts & Artifacts in Bhubaneswar
Address- Unit – VIII. CRPF Square. Nayapalli CRPF Colony, Nayapalli, Gopabandhu Nagar, Bhubaneswar, Odisha, 751003, India.
Due to its excellent location in Bhubaneswar, the Museum of Tribal Arts and Artifacts is easily accessible from all areas of the city via auto rickshaws, private taxis, and local bus service. This museum is located 6.1 km from the Biju Patnaik International Airport, and it will take you about 15 minutes to get there.
On the other side, it takes roughly 13–14 minutes to get from the Bhubaneswar Railway Station, which is about 5.2 km away, to the museum. The Baramunda ISBT Bus Stand is the location where visitors arriving by bus can disembark and catch any local transportation to the museum. The bus stop is just 2.7 kilometers away.
Things To Remember While Travelling To Museum Of Tribal Arts & Artifacts
The museum provides parking, restrooms, and a wheelchair-accessible entrance.

Free parking is available for vehicles.

Within the building is a tribal food court.

There is availability of restrooms, drinking fountains, and locker rooms.
According to a quote by Mahatma Gandhi, "A nation's culture resides in the hearts and in the soul of its people." By preserving and showcasing the rich cultural history of Odisha's tribal people, the Museum of Tribal Arts and Artifacts perfectly captures the essence of tribal culture.
The Odisha tribal population's rich cultural heritage is exemplified through the Museum of Tribal Arts and Artifacts, which serves as a constant reminder of their eternal beauty, sage advice, and artistic legacy. A must-visit place for both the thinkers and the feelers!