Mangalajodi Bird Sanctuary- Best Time to Visit, Timing, Entry Price, Things To Explore, and Much More!
Only those who want to hurt their fingers while photographing the birds or the entire sanctuary should go to Mangalajodi Bird Sanctuary. Because you'll either be glued to your camera from start to finish or if you're an environmental enthusiast, you'll physically float down the lake while mentally traveling over the entirety of the sacred space to which your eyes can see.
The Mangalajodi Bird Sanctuary is 40 kilometers from Khordha, the district administrative center. It is a place to go to see a glimpse of nature. There is an ecotourism destination on the northern shores of Chilika Lake in the state of Odisha. More than 30,000 birds can be found in the marshy waters of The Bird's Paradise, especially in the winter. The cornerstone of the entire endeavor is the conservation of the avifauna and the wetland ecology. Nearby to the Mangalajodi Bird Sanctuary are a nature camp and an eco-tourism cottage. Visitors can observe Chilika Lake from above from the watch tower in the refuge. One of the most well-liked tourist destinations in Khordha, Odisha, is the Mangalajodi wetlands.
General Information Regarding Mangalajodi Bird Sanctuary
The northern borders of Chilika Lake, Asia's largest brackish water lake, are home to the little hamlet of Mangalajodi. The distance to Bhubaneswar, the state capital of Odisha, is only 70 km (1.5 hours by car). You will always see Tangi as your current location on your mobile device because Mangalajodi is located in the Tangi block of Odisha.
There are many wetland marshes on Chilika's Mangalajodi side. Because of this, birds can travel here from all over the world to breed and build nests.
In the winter, more than 230 different bird species make Mangalajodi their home. Additionally, it is one of the biggest Asian wintering sites. Every November through March, more than 100 exotic bird species arrive from Eurasia and the Arctic to escape the bitter cold of their native habitats. In Mangalajodi, they find a welcoming atmosphere.
You have certainly heard about India's first Ramsar Site, the enormous Chilika Lake. Mangalajodi is significantly less well-known outside of the community of birdwatchers, though. Every year, hundreds of birdwatchers go to this remote community to capture stunning images of their beloved feathered friends.

Things To Explore in Managalajodi
There will be more than 200 species present during the peak migration in December and January. Egrets (both Great and Little types) of all sizes, Purple Moorhens, Whiskered Terns, Water Crows, Glossy Ibises, Purple Herons, Kingfishers, Pond Herons, and many other birds were among the many species that can be observed. Additionally, the migratory season had just begun. And it is a complete joy to simply sit and see their game. You can use the bird checklist provided here. 
Fish can also be seen jumping into and out of the water. A few snakes here and there, usually non-venomous ones. It is thought that the purple heron only eats snakes.
Mangalajodi's vegetation is particularly distinctive. The wetlands are covered in Chari Dala (pondweed), which is beneficial for the growth of fish and prawns, and Nala Dala (the common reed), which aids in bird breeding. A peacock feather impression can be found inside the petal of the fascinating Nala Dala flower along with a lot of water lilies.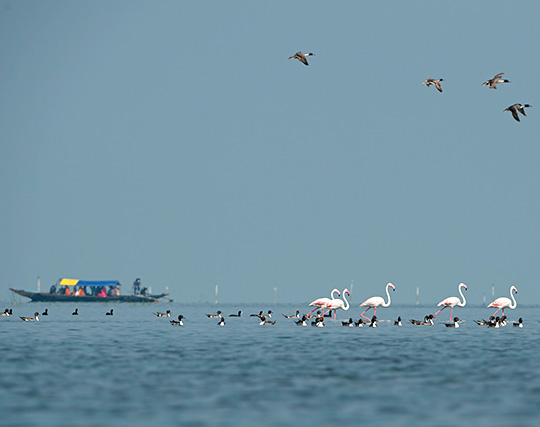 A collaborative effort between the Indian government and the villagers of Mangalajodi aims to sustainably maintain the Chilika wetlands there. Mangalajodi was infested with bird poachers just 20 years ago. At the height of the season, there were just 5,000 birds present. With the promise of a sustainable life for all, the situation has now been reversed. Protectors have changed from poachers. They actively participate in tracking and keeping an eye on the number of birds.
Best Time to Visit Mangalajodi Bird Sanctuary
The months of November through March are thought to be ideal for visiting Mangalajodi's bird sanctuary. Birds begin arriving in October and typically stay until March. However, the migration occurs in stages, with December and January having the highest concentration of bird species and numbers. During this time of year, temperatures are also the lowest, allowing you to spend longer time on the lake.
Best Entry Timing to Mangalajodi Bird Sanctuary
It is ideal to go out on the lake during the daytime either in the early morning or in the late afternoon. During these times, birds come out to feed, and it is simple to see them. If you want to witness flocks making their way back to their herds, evenings are the best time. The best hours to enjoy would be from 6 am, up to 4 pm. The entry fee is 70/- but the cost for a private boat can be around 1200/-.
How To Travel To Mangalajodi
Address- NH-5 Mangalajodi, Bhubaneswar, Odisha 752021
It is simple to travel here by car because Mangalajodi is located close to Bhubaneswar. It takes less than two hours to drive. There is a distance of 58 kilometers between Bhubaneshwar and Mangalajodi. The distance via road is 68.6 Kilometers. A direct train runs from Bhubaneswar to Muketashwar and arrives there. The services operate three departures each day. The trip takes about 1 hour and 20 minutes.
Things To Do in Mangalajodi
Take a Boat Ride

Enjoy scenic beauty and photography

Bird Research and Observation

Picnic 

For lovers of the environment and birds, the Mangalajodi Bird Sanctuary is a wonderful paradise. Visitors can observe the incredible avian richness and be in awe of the beauty of resident and migratory bird species thanks to its one-of-a-kind and immersive experience. A haven for birdwatchers and photographers, the sanctuary's picturesque wetlands, marshes, and serene settings provide the perfect home for a variety of bird species. With so much beauty and calm, this place is worth a shot of visiting as soon as possible!