Mahatma Gandhi Park, Puri- Entry Timings, Things to Explore, and Much More!
Like Mahatma Gandhi once said "The best way to find yourself is to lose yourself in the service of others" and Mahatma Gandhi Park truly embodies this spirit of service and selflessness, encouraging individuals to embrace Gandhian ideals and work towards creating a better world. This message-infused-environment of the park serves is sure to leave a mark on your life and get you a step closer to a peaceful introspection.
Whether spending a quiet time introspecting life, enjoying natural surroundings, or imbibing the teachings of Mahatma Gandhi, everyone's going to be nourished from the soul and lead a meaningful life. Mahatma Gandhi Park is located near the seashore in Puri, Odisha. This park honors Mahatma Gandhi, the nation's founding father, and is created and managed by the National Aluminum Company (NALCO).
The park, a well-liked metropolitan attraction, has daily members running towards it every year. Locals come bustling to the park daily to either jog, walk or exercise in the early morning and also late in the evening. The park has a watchtower inside of it, and the view of the sea beach from there is truly breathtaking.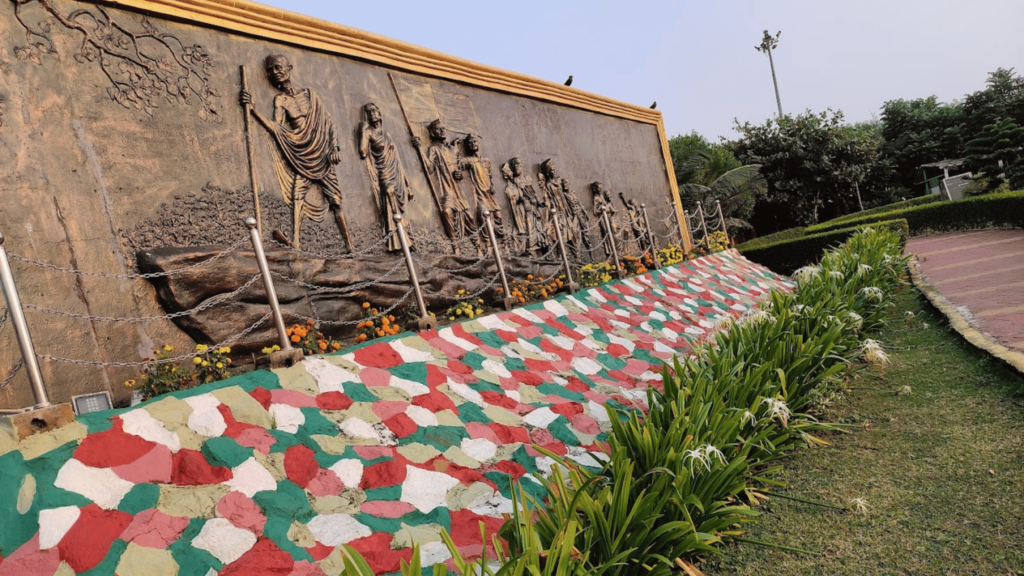 Architectural Wonders Around The Mahatma Gandhi Park, Puri
This well-designed and articulated park, which spans a large area, is well-kept and has a lovely architecture with trees and lush gardens that are complemented by lovely floral plants, hedges, and landscaped walkways. The Watch Tower, which has two stories, is located in the park's right-hand section. From here, one may enjoy stunning views of the beach and the big sea beyond it.
A giant statue of Mahatma Gandhi has been placed in the center of the park on a raised platform, and it is encircled by a variety of vibrant flowering plants. A large bronze bell that hangs from a pretty large entrance with a top that resembles a temple tower is visible beyond this statue.
The renowned Konark chakras have been painted on the walls on either side of the entryway. The entryway and the chakras have a chariot-like appearance when viewed from a distance, perhaps in the style of the city's famous Rath Yatra. It is not permitted to enter through this gate, which goes to the seaside.
A specialized play area for kids with a swing, see-saw, slide, and merry-go-round is located on the park's left side. Adult-specific workout equipment has been put in place right next to this location. A fountain has been erected nearby and is open in the evenings to read every cue that the beautiful environment has provided.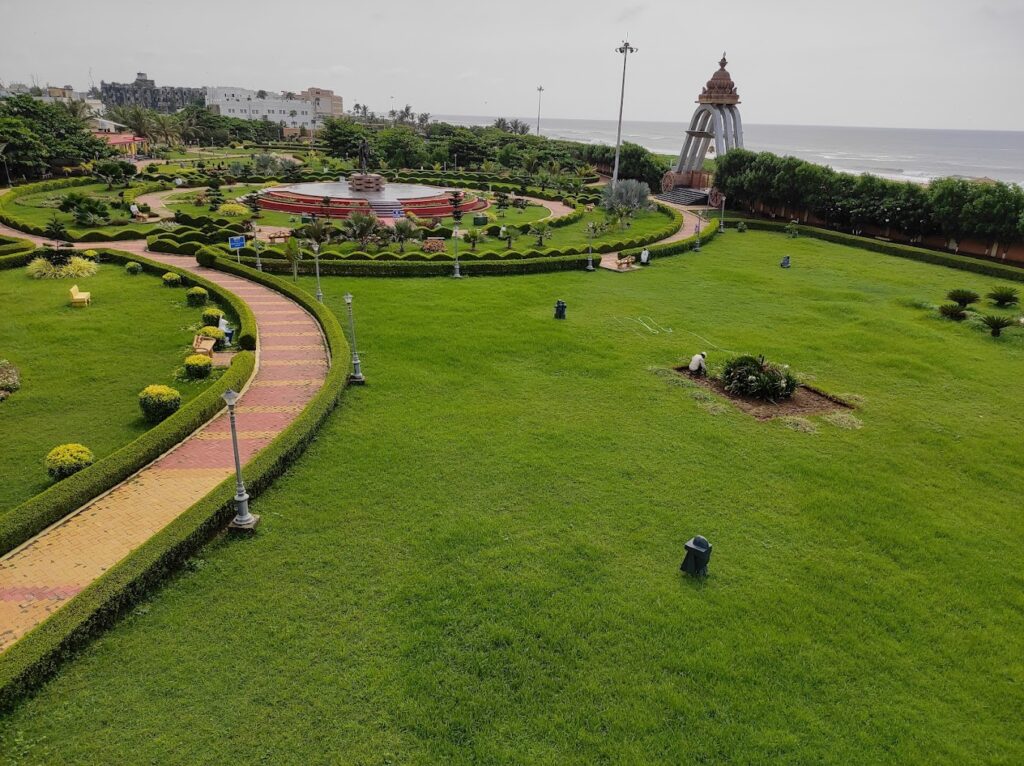 Things To Explore In Mahatma Gandhi Park, Puri
Families can sit in this park in the city and unwind while enjoying the sea air's pleasant breeze. This location will appeal to tourists because it is calm and pleasant. The park is beautifully lit at night, which makes it even more lovely.
Visitors can also spend time at some of Puri's other well-known tourist destinations, such as the Puri Sea Beach, Blue Beach, and Swargadwara Beach. The most revered Shree Jagannath Temple, Gundicha Temple, Loknath Temple, Markandeswara Temple, and Narendra Pokhari are among the holy city's well-known sanctuaries.
Entry Timings and Ticket Price Inside Mahatma Gandhi Park, Puri
Entry to Mahatma Gandhi Park is free of charge. Every day of the week, from 6 am to 1 pm and 4 pm to 7.30 pm, the park is open.
How To Travel To Mahatma Gandhi National Park, Puri
Mahatma Gandhi Park Puri Address: QRWG+GR6, Puri, Odisha, 752002, India
In a renowned area of the city of Puri is where you'll find the Mahatma Gandhi Park. It is roughly 2.3 Kilometers from the Puri Bus Stand and 2.2 km from the Puri Railway Station. To get to the park quickly, choose from a variety of transportation options available at the bus stop, railroad station, and auto-rickshaw stand.
The Biju Patnaik International Airport in Bhubaneswar, which is around 60 kilometers from the park, is the closest airport. After arriving at the Bhubaneswar airport, visitors can take a bus from the bus stop next to the railway station, head to the Bhubaneswar Railway Station, or hire a private taxi to drive to Puri.
Things To Remember While Visiting Mahatma Gandhi Park, Puri
On the land, there is a drinking water facility.

There are clean restrooms on the property.

In the park, photography is permitted.

Littering on the property carries a fine.
A tranquil and motivational memorial to the Father of the Nation, Mahatma Gandhi, is to be found in Puri. The park serves as a reminder of Mahatma Gandhi's profound teachings and values of peace, nonviolence, and social harmony with its beautiful flora, serene environment, and renowned giant statue. It is a location where guests can reflect back on Gandhi's life and legacy, unwind in nature, and comprehend his message of compassion and truth more fully. In addition to being a significant historical site, Mahatma Gandhi Park serves as a beacon of hope and inspiration for younger generations, inspiring people to adopt Gandhian principles and work towards a more just and peaceful society.