Ekamra Kanan: Ticket Price, Location, Photos, Timings, and History
Springtime is here, where can we go for picnic guys? Asked our teacher. We thought what would be the best place to just relax, and enjoy spring to the bottom of our lungs by inhaling that sweet, breezy fresh air that is just going to fill our minds with positivity. Some said Nandankanan Zoological Park whereas some said why not Deras Dam or any Hill house. We some group of backbenchers ( who happen to collect all the creative ideas to the forward row) sitting and observing quietly began to ask questions between ourselves like the best place for a picnic in springtime would be a place with lots of greeneries, shedding off old leaves and generation of new leaves and also that pure, fresh breath of air and our proposal got selected.
Ekamra Kanan Botanical Gardens will be the best place to just relax from hustling life and bustling city life. We reached our destination around 10 A.M in the morning of March and I can't even express the feeling of being surrounded by nature, flowers, and lakes. We were so busy in clicking pictures and in just absorbing everything even the air we were breathing. One has to experience by himself to get this aesthetic feeling of just forgetting yourself in the arms of nature. From clicking pictures from the flower area we slowly went to the cactus garden, and to my utmost surprise, I never realized that a plant with thorns and prickles can be so beautiful and equally competitive alongside flowers with petals. It was like the beauty of an individual in their own personality be it prickle or petals. 
The whole Ekamra Kanan journey was not less than any philosophical tour we had made and these gardens should be deemed as "Philosopher's Locked House" as one is sure to write a poem or two or some proses on the mesmerizing beauty. We skipped the children's park only to regret that why have we become adults so soon. Just give us back our childhood. But as there were none to hear our little inner world, we come out of it and found ourselves paddling in the boat throughout the lake. With snacks in hand, legs on paddles, and mind on enjoying the beauty, the feeling of you belonging to yourself comes as a true reality!
We came back after absorbing and saving all the memories in our phones only to realize that peace does exist and we call it a Garden!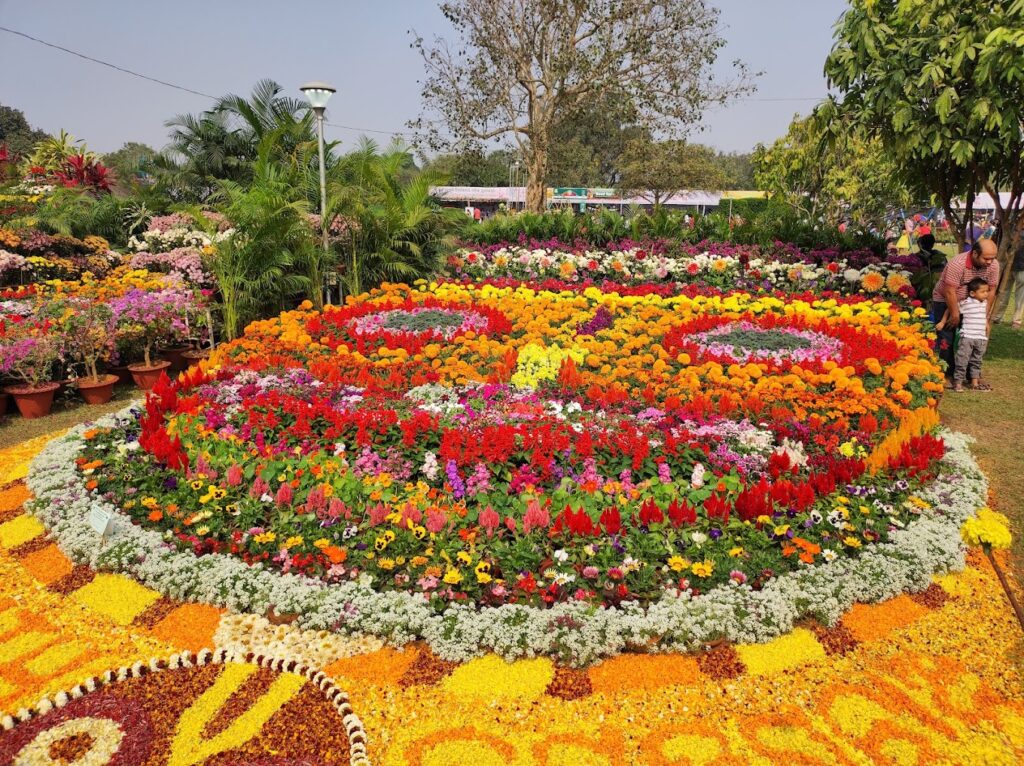 The Regional Plant Resource Centre (RPRC) established the Ekamra Kanan in Bhubaneswar in 1985. The Government of Odisha established it as a research facility for study-related tasks as well as the preservation of plant biodiversity.

The Plant Lovers Association of the city hosts a beautiful flower exhibition at the park every January in cooperation with the RPRC, the Department of Horticulture, and Odisha Tourism. A plant bazaar is also hosted during this month, where an extensive range of gardening tools, saplings, insecticides, and fertilizers are sold.
Architecture Of Ekamra Kanan
This 500-acre botanical park, a well-liked tourist destination, is cared for by the Regional Plant Resource Centre (RPRC), Bhubaneswar. Due to the more than 1000 different types of cactus plants that may be found there, Ekamra Kanan is also known as the Cactus Garden.
The Cactus Garden, which covers 100 acres of land, is the focal point of Ekamra Kanan. Within this space, a sizable glass pyramid-shaped greenhouse has been constructed where more than 1000 different varieties of succulent and cactus plants are raised.
A boating facility has been set up on the 45-acre lake that is located inside the park. Here, boating can be done in either a two- or a four-seater vessel. Many migratory birds can be seen in the lake throughout the winter.
While the hibiscus garden boasts 52 different varieties of hibiscus plants, the lovely flower garden in the park is home to 72 different species of fragrant flower plants. On the other hand, there are over a thousand varieties of rose plants in the rose garden.
In the park, there is a playground where kids can swing and slide around. A tiny melodic fountain has also been erected in one area of the park. A walking path has also been constructed inside the park in addition to these. Locals pay a very small charge to utilize it for walking and running in the mornings and nights. The remaining section of the park is covered in a thick forest.
Ticket Price/Entry fees In The Ekamra Kanan
Opening Timings Of Ekamara Kanan
Things To Explore in Ekamra Kanan
The green and peaceful surroundings of Ekamra Kanan make it a great location to sit and just unwind. This wonderfully kept park offers a variety of views to see, including flower gardens and cactus gardens. A modest play area for kids has been created inside the park's boundaries so that they can be cared for in addition to boating.

Visitors can visit the popular Ekamra Haat, which is lined with small stores selling regional handicrafts and various handloom items, after spending time at Ekamra Kanan Bhubaneswar. This little market also has food stands that provide hot regional specialties.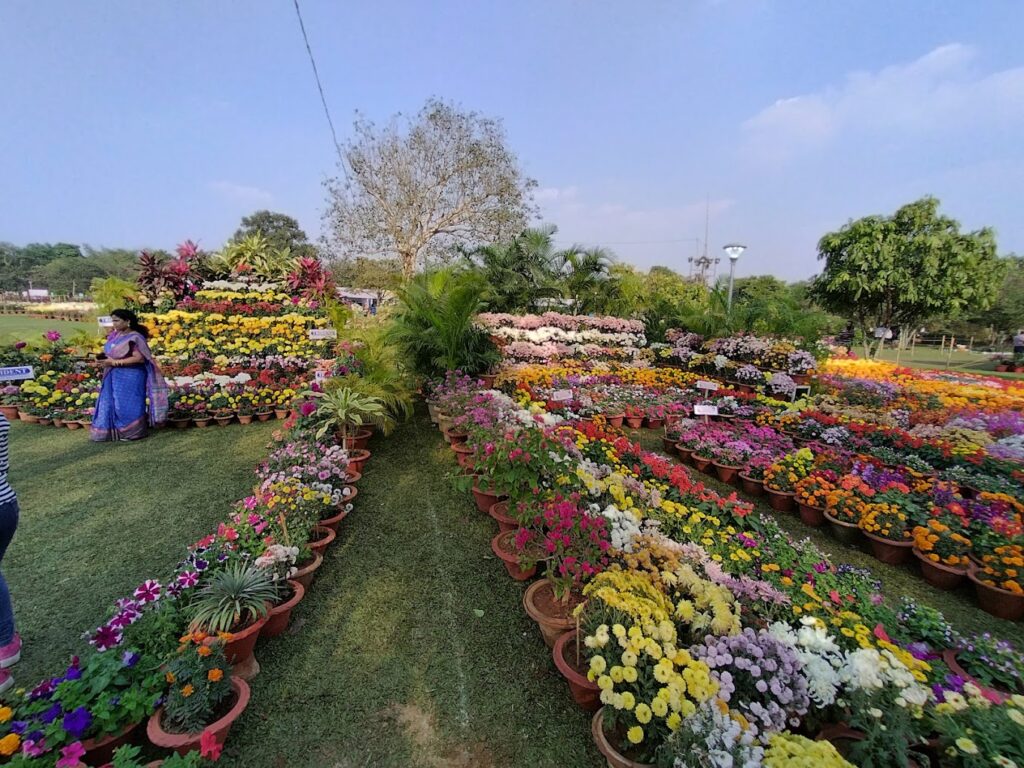 Location & How to commute to Ekamra Kanan, Bhubaneswar
Ekamra Kanan Address- RPRC Botanical Gardens, Bhubaneswar, Odisha
                                           Pin- 751015, India
One of the largest and most well-known parks in the city, Ekamra Kanan is conveniently located. Tourists can readily access private cabs, auto rickshaws, or local buses after arriving in the city by rail or plane to get to the park.
It takes about 21 minutes to travel the 7.2 km from Bhubaneswar Railway Station to Ekamra Kanan Park, but it takes about 18 minutes to travel the 7.4 km from Biju Patnaik International Airport to the park. You can choose a private cab from the best automobile rental companies in Bhubaneswar for a hassle-free commute and to comfortably see all the city's attractions.
Things To Remember When Visiting Ekamra Kanan, Bhubaneswar



The park allows for photography.

On-site food vendors are available.

Additionally, there are a number of little stores selling regional handicrafts within the park complex.

Facilities like restrooms, benches for seating, and drinking water are also provided.
Ekamra Kanan is a well-liked tourist destination in Bhubaneswar, that offers a distinctive fusion of nature and culture. The park is renowned for its stunning scenery, unusual plants, and a large collection of therapeutic herbs. Ekamra Kanan is a terrific area to spend a day out with family and friends because it has a variety of amenities and activities, such as a cactus park, a children's park, and boating. Ekamra Kanan is a must-visit location for anyone that is traveling to Bhubaneswar as it provides a peaceful haven away from the noise and bustle of the city.