Dhauligiri: Stupa, Hills, Ticket Price, Timings, Distance, History, Architecture, and More!
Scout and Guides, Attention! We are going for a trekking activity to Dhauligiri, so pack your bags tomorrow and meet at this meeting playground. Meeting disperse! And we are so excited, we had only read in history books about Ashokan rock edicts and the famous Kalinga war that made a hard rock heart into a flowing river of compassion beside the Daya River. 
We were so excited that when we were climbing the hill, we actually forgot we may have been tired, but no the excitement and the curiosity took every drop of sweat and tiredness away. Upon reaching in front of Dhauli, we took a big gasp at the amazing view of the stupa, so white and so peaceful, I thought maybe this is what serenity is called and maybe this is why white symbolized peace.
Having wandered around the stupa in a circular way, we didn't forget to take pictures, and enjoyed the cool breeze there, though the walls were a little high for us that didn't obstruct the cool breezes to reach out to us.
And a few distances was the Dhabaleswar temple just behind the Dhauli stupa, this reminded me how amazing these Gods are given place there who represent peace of mind in every way since ancient times. 
I always reminisce about my first snap of a picture taken by an American lady who so politely told us to step down a further of the stair to take a good picture. My first experience with my not-so-fluent English encouraged me to take the language a little seriously.
After a brief lunch, the time came to descend the hill we didn't want to leave the place so early, but we were bound to dig our wishes to spend a little more time and had to come down the hill as if were marching.
Although short but Dhauligiri did make some fun and exciting memories to rejoice in and with a peaceful state of mind!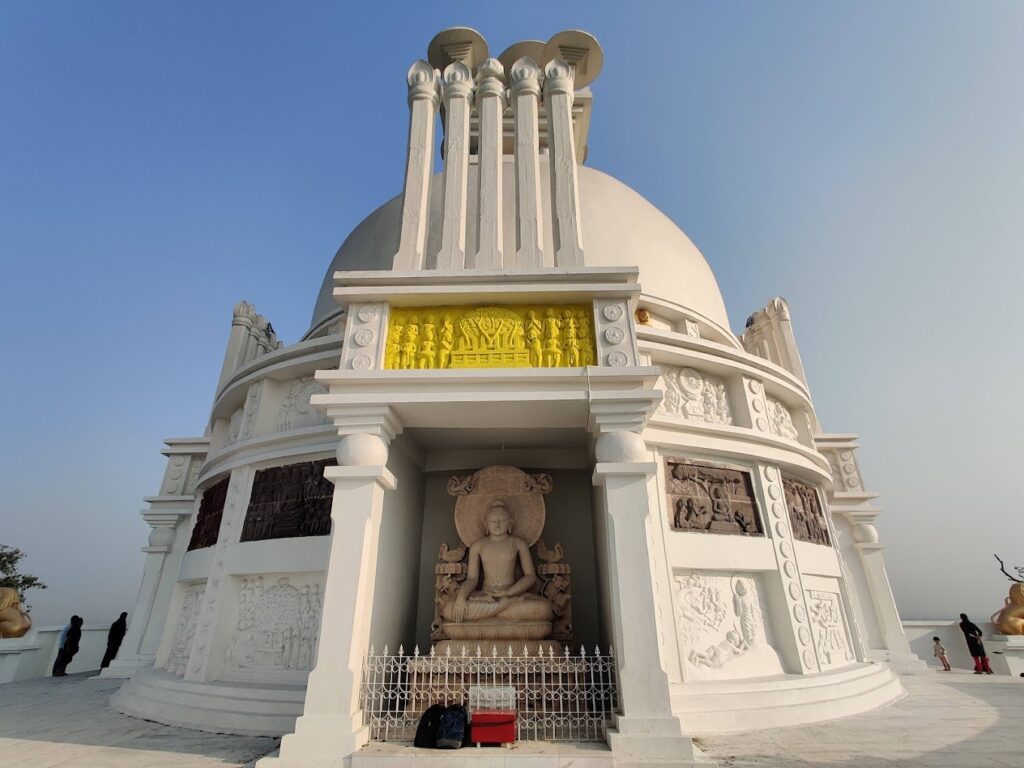 The Mauryan Empire and the Kalinga kingdom (states of Kalinga) engaged in battle in 262 B.C. during the Kalinga War. Kalinga was in charge of all the Southeast Asian trading channels. Ashoka, the Mauryan king, desired to take over Kalinga as a result. He, therefore, marches to Kalinga with his vast army. Despite winning the battle, he understood how pointless it was. 
Ashoka, the fabled ruler of the mighty Maurya dynasty, looked down from above the huge length of the Kalinga battlefield, which was now covered in bodies of around 2,00,000 soldiers following a battle near the Daya River. After the war, he solemnly vowed never to fight again after witnessing the carnage and anguish of the soldiers' families. Even after a win, the sight of the dead and destruction left behind by the battle appalled him and caused him to change. 
The primary event observed in Dhauli Hills is the Kalinga Dhauli Mahotsav. Every year, it takes place in February. The Odisha Tourism Department is in charge of planning this three-day celebration. The festival is well-known for its numerous displays of classical dance, classical music, and martial art dance. This event features approximately 500 performance artists from across the nation, including well-known musicians and dancers.
The Architecture Of Dhauli Hills
Japan Buddha Sangha and Kalinga Nippon Buddha Sangha constructed the Dhauli temple in the 1970s. The five umbrellas on the dome-shaped building stand for the five tenets of Buddhism. The five umbrellas on a Buddhist temple's dome-shaped structure stand in for the five Buddhist teachings of compassion, wisdom, charity, discipline, and patience. 
Additionally, the five umbrellas stand for the safety and shelter that the Buddha's teachings offer to his devotees. Each of the five umbrellas is put in a particular order, with the central umbrella standing in for compassion, which is regarded as Buddhism's most crucial teaching. The sanctum is absent from this temple. Around the temple, there are four Buddhadev statues.
The Uniqueness Of Dhauli Stupa
King Ashoka chiseled the narrative history onto cliff faces, pillars, and cave walls all over India. It implies that there may have been two administrative centers in the governing region. On the stones, there were instructions about how to rule his subjects written to his administrators. These are something like this: "Your goal should be to win people's love. All people are our children, and just as I always want my kids to be happy and have a good life both here and on the other side of the world, I should want the same for everyone.
These edicts demonstrated the astonishing conversion of a great warrior king who was cold-blooded and merciless to a kind and compassionate person who dedicated his life to the Buddhist way of life, which was harsh and enlightened to live for a great warrior. Even 2000 years later, these inscriptions were still easily readable.
Entry Price/Ticket Price and Timings In Dhauligiri
Address of Dhauli Giri Hills- Dhauli Road, Uttara, Odisha Pin- 752104
The Dhauli Giri Hills in Bhubaneswar do not charge an entrance fee. From 6 am to 6 pm, this location is always open to all guests. The Light and Sound Show at Dhauli Giri Shanti Stupa does, however, have an admission charge. Each person pays Rs. 25 and Rs. 10 for Students. Every night, barring Mondays, there are two performances. Their times are 6:30–6:50 p.m. and 7:10–7:30 p.m.
How To Travel To Dhauligiri
By frequent planes and railways, Bhubaneswar is well connected to all of the country's major cities, including Delhi, Kolkata, Mumbai, and Bengaluru. From the airport and train station, it is simple to get local buses, cabs, and auto rickshaws to Dhauli Giri Road.
Biju Patnaik International Airport is 9.9 kilometers away from Dhauli Giri Hills, and it takes about 25 minutes to get there. On the other hand, it takes around 24 minutes to go to the Bhubaneswar Railway Station, which is 9.7 kilometers from the Dhauli Giri hills. To get there quickly, you can take a private cab from one of Bhubaneswar's vehicle rental agencies.
Things To Explore in Dhauligiri Hills
A breathtaking vintage view of the city of Bhubaneswar and the lovely Daya River can be seen from the Dhauli Giri Hills. From the top of the hills, the view is truly beautiful. It has a generally serene and tranquil atmosphere. The Shanti Stupa and Ashokan Rock Edicts are the Dhauli Giri Hills' two most well-known landmarks.
The Dhauli Shanti Stupa, also known as the Peace Pagoda, is located on the Dhauli Giri Hills. It is one of Bhubaneswar's most well-liked tourist destinations. Around 1970, Kalinga Nippon Buddha Sangha and Japan Buddha Sangha constructed it.
This white stupa has a dome-shaped construction and is renowned for its exquisite architecture. Five umbrella-shaped extensions at the top of the dome represent the Buddhist philosophies. On its walls are also sculpted representations of Lord Buddha in various positions. The stone slabs at the temple also bear the life story of Lord Buddha. Inside the stupa is a sizable statue of Lord Buddha.

It is situated at the base of the Dhauli Hills. Emperor Ashoka's proclamations and his Buddhist teachings can be found here, inscribed on rocks, cave walls, and pillars.
The elephant-shaped rock carving that emerges from a huge boulder is a site highlight. Many see it as the story of Emperor Ashoka's conversion from a ruthless warlord to a Buddha who loved peace. The complex also includes a lovely garden.
Dhauli Hills are situated on the Daya River's left bank. Visitors can take in this river's beautiful magnificence, which is flanked by large grasslands and forested areas.
It is presented at the Dhauli Shanti Stupa every evening, excluding Mondays. The Kalinga War and King Ashoka's life are both shown in this breathtaking laser light show. Tourists can watch this magnificent light and sound performance by making a little donation.
This is an old Hindu temple situated behind the Dhauligiri Shanti Stupa. Lord Shiva is the shrine's presiding deity. This is an additional Dhauli Giri Hills feature worth seeing.
Things to Remember While Visiting Dhauligiri
There is a parking facility on the property.

The Shanti Stupa requires visitors to take off their shoes.

When climbing hills, it's best to wear hiking boots.

To avoid crowds and oppressive heat later in the day, it is advisable to visit the location in the morning.

It is advised to carry drinking water and to wear a hat.

In the area, cameras are permitted.
Dhauligiri Shanti Stupa is a notable historical and religious located atop Bhubaneswar. Visitors get the chance to study the Kalinga War, Buddhist doctrines, and the development of Indian architecture at this exquisitely constructed and meticulously preserved complex. The location is a must-visit for both visitors and locals because of its natural beauty as well as its spiritual and cultural value. The Shanti Stupa and Dhauligiri offer a calm and tranquil retreat from the bustle of daily life and serve as symbols of the strength of nonviolence and peace.