Bedi Hanuman Temple – History, Architecture, Entry Timings, Things to Explore, And Much More!
Bedi Hanuman Temple, a shrine to Lord Hanuman, is situated on Chakra Tirtha Road in Puri, Odisha. It is a tiny temple next to the Puri Sea Beach, yet it is imperative to Puri's religious heritage. 
With facing day-to-day challenges to solving in a go. This place assures you leave with more courage infused in you and more strength to again carry out your work with triple the strength with which you have entered the temple. 
'Bedi Hanuman' literally translates to 'Chained Hanuman,' and there is an intriguing backstory to this moniker. The temple is also known as Daria Mahavir Temple, with Daria denoting the sea and Mahavir denoting Lord Hanuman. It is a common belief that Daria Mahavir has a responsibility to defend Puri from the sea's fury and make sure that it does not breach the city's outer bounds.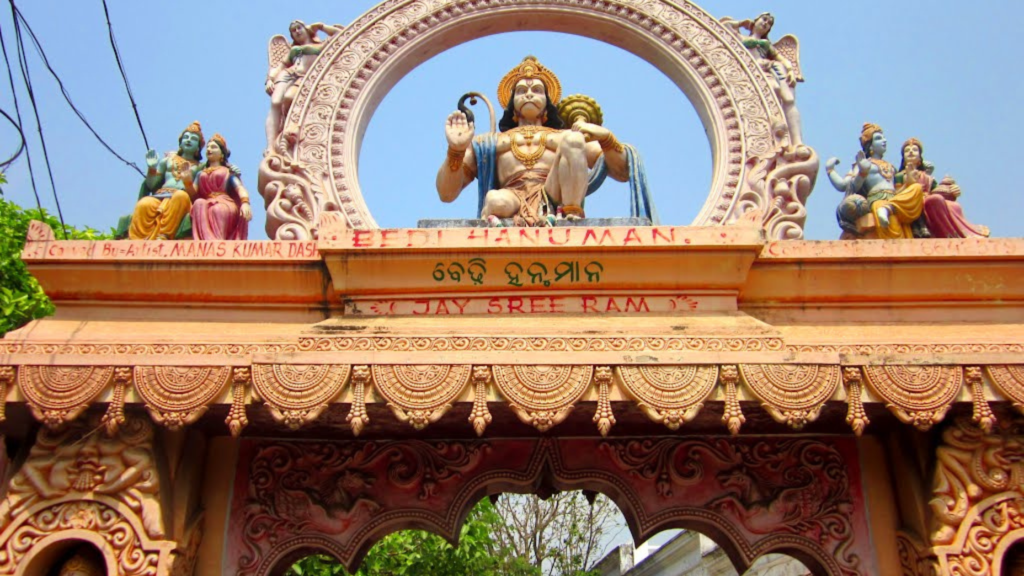 History of Bedi Hanuman Temple in Puri
Folklore holds that Lord Jagannath assigned Lord Hanuman the duty of defending Puri, day and night, from the wrath of the sea. But after that, he went to Ayodhya to partake in some ladoos (sweets) without telling Lord Jagannath. In the meantime, Puri was invaded by the sea, which severely devastated the Jagannath Temple.
Lord Jagannath discovered Lord Hanuman's unexpected trip to Ayodhya. Lord Jagannath tied Hanuman's hands and feet with a rope and told him to guard the shoreline when he got back to Puri. It is a common misconception that since that time, seawater has never reached the Jagannath Temple.
Pana Sankranti, Ramnavami, and Hanuman Jayanti are just a few of the festivities that are celebrated inside the temple.
Architectural Wonders of Bedi Hanuman Temple
The temple has a straightforward design and faces east. A two-armed Lord Hanuman who is carrying a laddoo (sweet) in his left hand and a gada (mace) in his right serves as the temple's presiding deity. 
This shrine's exterior walls are decorated with pictures of many deities. Lord Ganesha is depicted on the southern wall, Anjana (the mother of Hanuman) is pictured on the western wall holding a child, and several goddesses are depicted on the northern wall.
Things to Explore In And Around Bedi Hanuman Temple
After visiting this modest shrine honoring Lord Hanuman, visitors can walk to the surrounding sea beach and spend quality time there.
Other well-known shrines in the city that are must-see attractions exist in addition to this temple. They are the Ramachandi Temple, Loknath Temple, Markandeshwar Temple, Jagannath Temple, Gundicha Temple, and Swargadwar Beach.
Temple Entry Timings and Ticket Prices in Bedi Hanuman Temple in Puri
Every day from 6 am to 6 pm, the temple is open. A small entrance fee of Rs. 5 is required to enter the shrine.
How To Travel to Bedi Hanuman Temple
With the help of frequent train service, Puri is well connected to the country's largest cities. The airport service in Puri, on the other hand, is probably going to commence soon. At the moment, the Biju Patnaik International Airport, which is around 60 km distant, is the closest airport to the city. 
As an alternative, they can take an auto-rickshaw to Bhubaneswar's center and then board a bus to Puri from there.
The Bedi Hanuman Temple is located 1.3 kilometers from Puri Railway Station and 3 kilometers from Puri Bus Stand. To get to the Bedi Hanuman Temple, tourists can take a private taxi, an auto rickshaw, or a battery-operated rickshaw.
Things To Remember While Visiting Bedi Hanuman Temple
The temple priests are known to pester followers for money, thus visitors are urged to be cautious of them.

Inside the grounds of the shrine, shoes are not permitted.

Visitors should buy an inexpensive entrance ticket.
The Bedi Hanuman Temple is a revered place of worship where followers can find comfort, fortitude, and steadfast faith. This temple, which is located right in the center of Bhubaneswar, is extremely important to the followers who come here to ask Lord Hanuman for blessings and direction. The beautiful idol of Lord Hanuman inspires awe and motivation in onlookers and serves as a constant reminder of the divine presence that permeates every crevice of this holy place. 
The temple is a beloved site for devotees and guests alike due to its extensive history, stunning architecture, and spiritual significance. Bedi Hanuman Temple serves as a reminder that in times of trials and challenges, the strength and blessings of Lord Hanuman are always there to guide and protect us.