ODM Global School
"ODM Global School (OGS) is India's first-ever K12 categorized CBSE school with 6 National and International collaborations: Cric Kingdom – Rohit Sharma's Cricket Academy, Shankar Mahadevan Academy, Shiamak Dance Academy, Mahesh Bhupathi Tennis Academy, NBA Basketball School, and LaLiga Football School. At OGS, our education curriculum is multi-faceted, designed to evolve the unique potential within each child. Our unique school curriculum combined with world-class facilities and infrastructure incorporates all the aspects of top international schools. Continuing the three-decades-long legacy of ODM Educational Group, our Global School is a happy and welcoming home-away-from-home with excellent facilities for students."
Address: Edu Valley Kiss Jagannath Temple Road, Bhubaneswar, Odisha 751024
ODM Public School
"ODM Public School is one of the top CBSE Schools in Bhubaneswar. It provides academic facilities from Nursery, LKG, UKG to Class XII (Science & Commerce). ODM provides curriculum under three modes- Day Scholar, Day Boarding and Residential facilities. This school is known for its value-based approach for children and successful approaches in both Academics & Co-Academics. It has produced multiple toppers in the state every year in Class X, XII and its performance in NTSE & KVPY Exams is unmatchable. ODM provides an international standard of provision with some marvellous facilities as in-house AC Hostels, AC Classrooms, Smart Learning & Tablet driven learning, swimming, etc. It has garnered its position as the best CBSE school in Odisha."
Address: Plot No- 346, 2725, Infocity Ave, Sishu Vihar, Patia, Bhubaneswar, Odisha 751024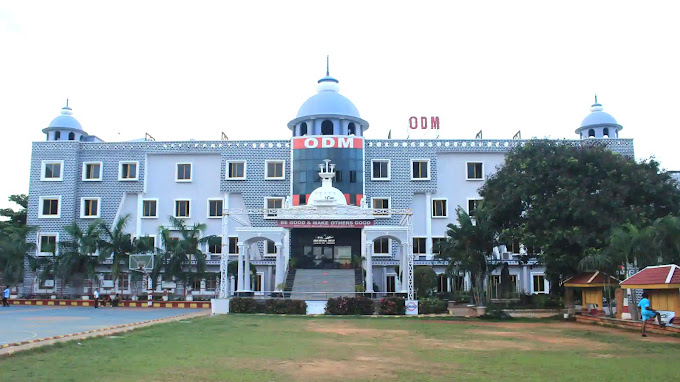 Kendriya Vidyalaya No.1
Kendriya Vidyalaya No.1, Bhubaneswar was started in 1967 as a small school at Unit-I Boy's High School of Bhubaneswar. After approximately one year of operation, a new campus was constructed at unit-IX. Since 2005, the school has operated as a two shift school.
Address: UNIT- 9, Janpath Rd, Satya Nagar, Bhubaneswar, Odisha 751022
SAI International School – Best School in Bhubaneswar, Odisha
SAI International School is a CBSE cum IGCSE affiliated, day-cum boarding, co-educational school in Bhubaneswar, Odisha. It was founded by Late Dr. Bijaya Kumar Sahoo in 2008, and is affiliated to the Central Board of Secondary Education, New Delhi. The school received the D. L.
Address: Plot -5A, Infocity Ave, Chandrasekharpur, Bhubaneswar, Odisha 751024
Apeejay School | Bhubaneswar
"Apeejay Schools are intellectual and creative centres that enable learners to imbibe the three powerful virtues of a truly educated individual – Strength, Vision and Wisdom. Since our first school came up over 40 years ago in 1975 in Kolkata, Apeejay Schools have won innumerable accolades for academic excellence and admiration for the strong bond of trust and faith shared between parents, teachers and students. With an unrelenting focus on the emotional, spiritual, physical and mental growth of the child, we prepare a little over 2000 children, annually, to mature into socially responsible citizens."
Address: 7QC8+4RW, Ghatikia, Bhubaneswar, Odisha 751003
KENDRIYA VIDYALAYA NO.2
Address: Central Reserve Police Force, CRPF Colony, IRC Village, Nayapalli, Bhubaneswar, Odisha 751011
Mother's Public School
"Mother's Public School currently considered as one of the Best English Medium School in Bhubaneswar was established in 1991 as Prakrit, a pre-school with strength of about 17 students and 4 teachers. Over the years, it has grown to a Senior Secondary School with strength of about 2100 students. The ideology behind starting the school was to cater to the needs of working mothers and it was launched as the first day-boarding CBSE School in Bhubaneswar. From the beginning, the school has focused on providing career-oriented education along with moral values and invaluable life skills. Over the last 25 years, the institution has become one of the Top CBSE schools in Odisha and the entire country."
Address: School St, Unit 1, Bapuji Nagar, Bhubaneswar, Odisha 751009
Doon International School Bhubaneswar- Best CBSE School in Odisha
Doon International School, Bhubaneswar is the third branch of the Doon International School in Dehradun and Mohali. It is a co-educational school, located adjacent to the All India Institute of Medical Sciences, Bhubaneswar, in Sijua, Bhubaneswar, Odisha, India.
Address: 6QGF+953, near AIIMS, Sijua, Patrapada, Bhubaneswar, Odisha 751019
TSG Gurukul School Bhubaneswar
"TSG Gurukul is the best CBSE Residential School in Bhubaneswar and one of the Top 5 +2 Science College in Bhubaneswar, Odisha with a high level of achievement, excellent educational method, and impressive progression to top schools in this country."
Address: 7PJX+X93, 444, Gothapatana, Malipada, Unnamed Road, Khandagiri, Bhubaneswar, Odisha 751003
Venkateswar English Medium School
Address: 35, Chandrasekharpur, Infocity Road, Pattia, Bhubaneswar, Odisha 751024